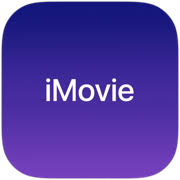 iMovie for iOS is the mobile version of Apple's first-party video editing software. Though it originally debuted all the way back in 1999, this video editing program didn't make it to mobile devices until June 24, 2010, when it was released for the launch of the iPhone 4.
Need a quick and fun way to make a video for class? Use iMovie! iMovie is an incredibly user-friendly app for students and educators to use in and out of the classroom. This app is a very useful resource when interacting with students, especially with younger generations, as it is fun and easy to play with. iMovie is very handy for teachers and future teachers because they can record demonstrations and lessons for a classroom, or when they're out for the day.
iMovie is easy and very convenient when you plan on sharing and uploading your video on any compatible device. This application is compatible with devices that have access to iCloud and any apple device, allowing you to easily transfer projects between your iPhone, iPad, and iPod touch using Airdrop or iCloud Drive on iPhone 5, iPad (4th generation), iPad Air, iPad mini, iPod touch (5th generation), and later devices. Once you're ready to debut your project, you can share it to iMovie and watch the project on all your devices that have iCloud, including Apple TV.
Here is a really good website on how to edit and make videos on iMovie: How to use iMovie for Mac, tips and more
Below is quick reliable YouTube video on how to use iMovie