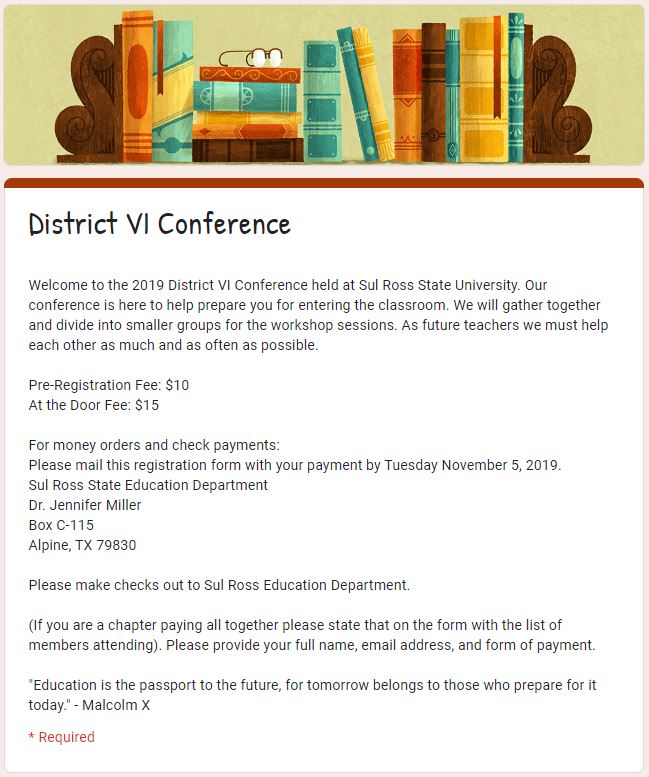 Beginning at 9:15 am tomorrow, Saturday 9 November, Sul Ross State University and the local chapter of the Texas State Teachers Association for Aspiring Educators (TSTA) will be hosting its very own Educators Conference for anyone on the campus who would like to attend.
Advocates for the future of education, the mission of TSTA-AE is: "The Texas State Teachers Association will unite, organize and empower public education advocates to shape public education in Texas thus providing a quality public school for every child." As a professional educators organization, TSTA-AE takes part in lobbying Congress on bills concerning education issues. However, TSTA-AE is not an organization just restricted to teachers, as each of their individual chapters offer professional training & development that can help in any job profession.
TSTA-AE prides itself on its involvement in the community, and membership is not restricted to educators and education students. The conference will be held on 9 November 2019 9:15 am – 4:00 pm. We look forward to seeing you there!
For more information; https://docs.google.com/forms/d/e/1FAIpQLSdk_WDPWQTAhJ0pCOFNsGGkZMPyOntiExf3J3pyClFYAKICbA/viewform