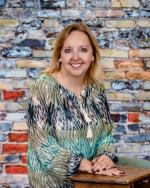 Professor Kimra Rogers has a history at Sul Ross State University. Along with teaching Reading and Literacy for our Education Department, she is also an elementary school counselor at Alpine Elementary School. Serving now for 27 years in education, she has taught 2nd grade, kindergarten, and was even a music teacher for one year. She is now in her 16th year at Alpine Elementary School as a counselor.
She received her Bachelor's degree, Master's degree in M.Ed. Reading and Counseling certification from Sul Ross State University. Her career in education began in Lorenzo, Texas then taught in Mansfield, Texas, and Fort Stockton, Texas. Kimra comes from a strong family of educators. Her father was a professor and chair of Industrial Technology at SRSU for many years. Her mother was a professor of education and director of field experiences at SRSU. Her sister is currently a second grade teacher in Alpine.
"My favorite memory of Sul Ross is growing up around the Industrial Technology building with my dad. Sul Ross had a very active Industrial Technology Club. We participated in parades and cookouts at Kokernot Lodge. I also spent a lot of time with my mom in the Education Dept. They both made a tremendous positive impact on my life. I hold Sul Ross near and dear to my heart!"
Sul Ross State University is very fortunate to have Professor Kimra Rogers here to serve our students.