Dr. Rebecca Schlosser-Professor of Education -Alpine Campus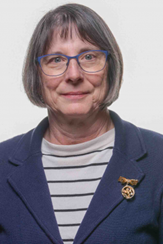 Dr. Rebecca Schlosser teaches Educational Leadership and Principal Preparatory courses and Educational Law at Sul Ross for the last 15 years. Originally from Houston, her first teaching job was in 1977.  Beginning in the 1980's she practiced school law and represented districts all over Texas. She attributes her law experience as an asset to her career in Educational Leadership which is her passion. Known as a "legal educator", she tries to close the communication gap to what is dictated by the legislature and what educators need to do and holds an Ed.D. in Educational Leadership from Sam Houston State University and a J.D. from the University of Houston.
Dr. Schlosser loves being a professor and is invested in her students' success, engagement, and persistence throughout their educational career. With optimism and a caring heart, she believes everyone has a right to a college education. She recently submitted cycle four of the Principal Residency Grant which could financially support certified teachers attending Sul Ross State University aspiring to become principals.
Living in Alpine holds fond memories for Dr. Schlosser. Of those, she remembers volunteering as a parent for the high school Alpine Band while her son was in school. She was a member of Lion's Club and was a judge for the municipal court here for a period of 3 years. She now lives in Houston with her husband and is proud to be a cancer survivor. Her favorite hobby while in Alpine was walking with her husband and was nicknamed "the walking people" in Alpine. "We walked every day. Did the loop twice a day, 10 miles a day", she says. She also loves animals. She represented a no-kill animal shelter, The Lone Star Animal Shelter in Midland. Her favorite memory at Sul Ross State University is the staff Christmas parties. "They were happy and festive".  Dr. Schlosser is happy that President Gallego is providing a fall celebration for faculty and staff. "He is a mover and shaker, very supportive, and invested in the university and community."
Sul Ross State University is proud to have Dr. Rebecca Schlosser belong to our faculty community.