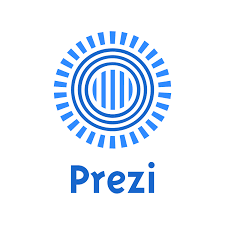 Prezi is an online Adobe Flash-based presentation program. It differs from traditional presentation programs, like Microsoft PowerPoint and Apple Keynote, in that it is not based on slides. Instead, Prezi presentations exist on a canvas which is navigated by zooming in and out of different points on the canvas. Prezi allows the creation of linear and nonlinear presentations by changing the sizes and positions of objects. While Prezi is a visual medium that can display text, but not the most conducive for displaying lengthy text. With these limitations in mind, instructors and students can be better able to garner student engagement by using Prezi.
Using Prezi designers can visually illustrate the relationship between concepts in the presentation, aiding student understanding of the presentation. Prezi also offers the ability for students to collaborate in class when using the program online, as up to eight people can edit the Prezi at the same time. For those teachers with larger classes, this could be accomplished by dividing students into groups, allowing for the synthesis of students' knowledge. Since Prezi is available through a free online format, students and teachers can use Prezi during and after class through an online link.
Because Prezi is still being developed, and is free, occasionally designers may encounter glitches. However, they are few and far between. Be mindful of its capabilities and its limitations before implementing Prezi into courses.
For more information or to view tutorials, Please visit www.prezi.com.