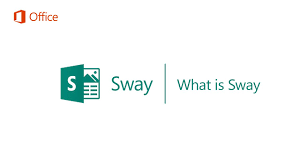 Part of the Microsoft Office family of products, Sway is a type of presentation program that became available for general use in August 2015. Sway allows users, who have a Microsoft account, to combine text, images, videos, and more to create a presentable website. Available in 39 Languages, it a very fast, simple, detailed and easy program to create with because Sway does the work.
How to use the Microsoft Sway app in the classroom:
Teachers in the classroom can easily pull content locally from internet sources such as Facebook, Instagram, Pinterest, OneDrive, and YouTube into their brief and engaging Sway presentations. Teachers can easily create presentations on nearly all topics ranging from science to history, social studies, English and even more. With brief and detailed pictures, videos, text information and sounds from different music genres students can also use sway to easily create class presentations.