Hello! My name is Ashley Halfmann and I am currently a 2nd grade teacher for San Angelo ISD. This is my 9th year in education and I have served my district in many capacities. I have taught Kindergarten, 1st grade, and 4th and 5th grade English Language Arts (ELA). I graduated in 2010 from Angelo State University with a Bachelor in Science in Interdisciplinary Studies and in 2018 from Sul Ross State University with a Master of Education in Reading Specialist.
I have a passion for literacy and have served on many English Language Arts PLCs and mentor committees. I was involved in Teaching for Learning curriculum writing, in which, I developed 4th grade ELA curriculum. I also participate in a summer reading program that supports and strengthens reading skills of low socioeconomic children. I was awarded Teacher of the Year in 2016.
As a former writing teacher, I have learned the value of strong writing instruction. This begins with simply allowing your students to write daily. A favorite activity comes from Corbett Harrison called "Sacred Writing Time". This is a short ten minute part of the day that becomes one of the most important. This time allows students to freely write and draw about anything on their mind. A set block of writing time builds writing fluency, challenges students to be creative and express their ideas in unique ways, and is a great time to practice skills and strategies discussed in writing mini-lessons. Building confident writers in elementary classrooms paves the way for life-long writers!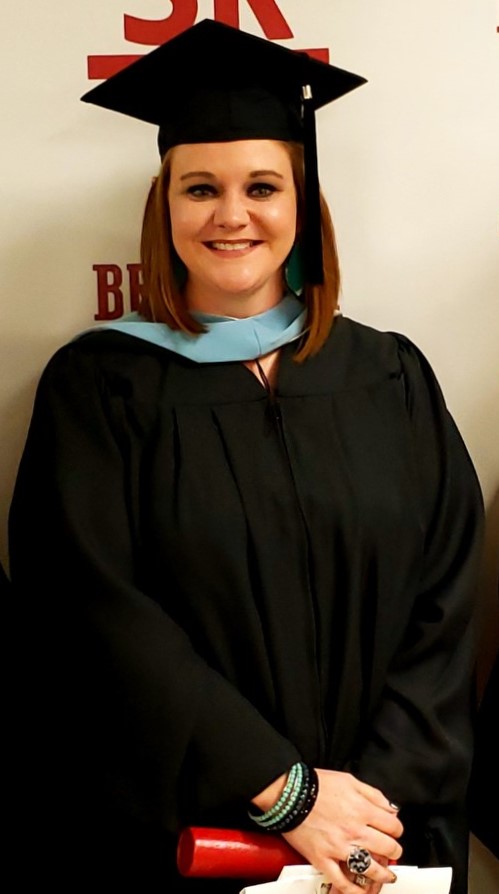 SRSU Fall 2019 M.Ed. Reading Specialist Graduate