Administrative Assistant for the Education Department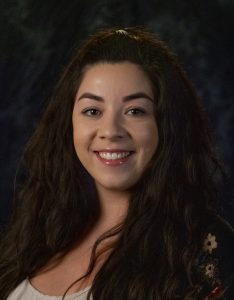 Madison Owen is here for you!  As the administrative assistant to the Education Department at Sul Ross State University, she helps students and potential students with general questions regarding our Education programs. Ms. Owen is located at the front desk in the Education Department and greets everyone with a smile.  
Her duties are extensive including assisting with the process of student teaching placements every semester for each student, organization of student files, and providing answers for students that call. Ms. Owen is there to assist and direct in any collaboration of communication with all faculty, staff, and students. She enjoys working with a supportive community that welcomes anyone. "Working with and helping the SR students are my most favorite part of my position. I feel that a hard-working college student deserves a University that works just as hard for them".
Ms. Owen's mom, Jennifer Mustain is a Sul Ross alumni and brought her along to her classes on some occasions when she was young. Feeling the excitement of university life and feeling "the big kid life" inspired and motivated her to work hard to earn her bachelor's degree in 2018. This fall, she started pursuing her master's degree in Licensed Professional Counseling here at Sul Ross and is enjoying it. Ms.Owen is family to Sul Ross State University. The experience she brings to her position is an asset to the Education Department.